Expo « Wild Wild West » – TE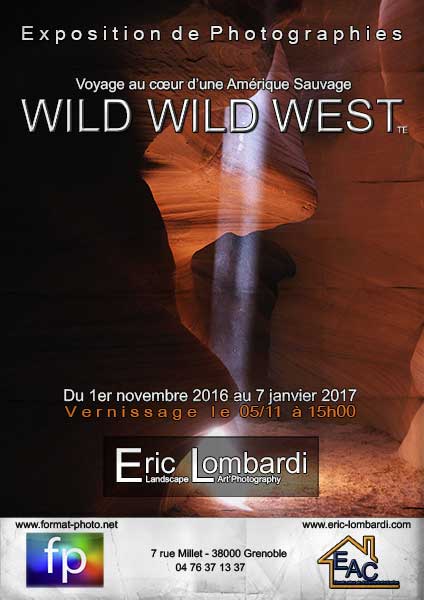 Bonjour à tous !
Le magasin Format-Photo à Grenoble accueillera mon exposition "Wild Wild West" du 01/11/16 au 07/01/2017 avec de nouveaux clichés pour un nouveau voyage immersif au cœur des Etats-Unis, sur fond de nuances colorées et de Noir&Blanc.
My to-do List :
– Finir et contrôler les derniers tirages sous l'œil aguerri et non moins Expert de Bruno…et du mien par la même occasion 🙂
– Distribuer les affiches…, les flyers…, serrer des mains … ect …
Le Vernissage aura lieu à Format-Photo le samedi 5 novembre de 15:00 à 18:00, le créneau de 19h00 étant réservé aux retardataires 🙂
A bientôt !
Hi all !
"Format-Photo" store in Grenoble welcome my exhibition "Wild Wild West" of 11.05.16 to 01.07.2017 with new shots for a new immersive journey in the heart of the United States, with colorful shades mixed with Black & White .
My to-do List :
– Finish and check the lasts printing under expert supervison from Bruno … and mine at the same time 🙂
– Finish up the poster compaign …, distribute the Flyers …, shake hands … ect …
The Opening will take place at Format-Photo Saturday, November 5 from 3:00 PM to 6:00 PM.
See you soon !